Hydro granules 10L for Sundaville®
€10,95
These Sundaville® hydro granules in combination with the potting soil are the best basis for your mandevillas.
Hydro granules are perfect as a basis for your planters. This is due to the perfect properties of hydro grains. It ensures that too much water is absorbed and a shortage of water is released at the root. As a result, the plant is less likely to experience stress from too much or too little water. In addition, hydro grains also provide oxygen to the roots. Due to oxygen at the roots, nutrients are better absorbed and the plant will grow better.
Our hydro granules are available in 10 liter bags, how much you need depends on the size of the pot. Use hydro granules for about 20% of the content of the pot.
| | |
| --- | --- |
| Grower | Mandevillashop.com |
| Ship to | Austria, Belgium, France, Germany, Luxembourg, The Netherlands |
"We are a family business. Our goal is to produce in a market-oriented way through short lines with suppliers. This allows us to serve all our customers, from small florists, large retailers and consumers, with the best quality of Dutch soil." says Tim from Mandevillashop.com
At Mandevillashop, we devote ourselves year-round to this stunning summer bloomer – even in winter! We adore this gorgeous garden plant and know exactly what it needs to thrive. That's why we're known as the Mandevilla specialist!
History
Mandevillashop is part of the Beauty Plants nursery, a family company situated on 7.5 hectares that started growing Mandevillas in 2016. Our love of the Mandevilla inspired us (brothers Tim and Stef Koene) to start Mandevillashop.com to introduce this modern and versatile plant to even more consumers.
Mandevillashop has since grown into much more than a webshop specialising in beautiful Mandevillas. We also share information, inspiration and care tips based on our experience and expertise.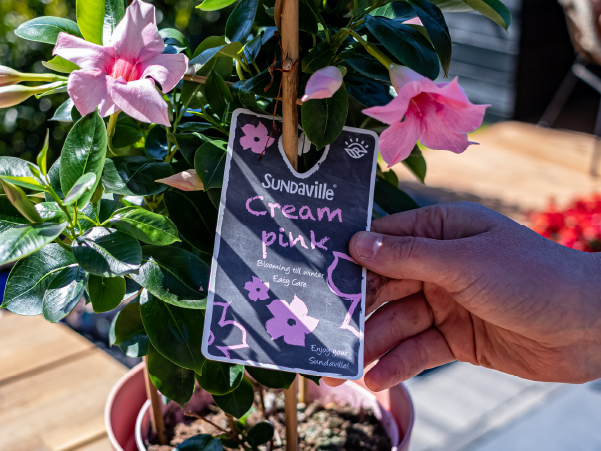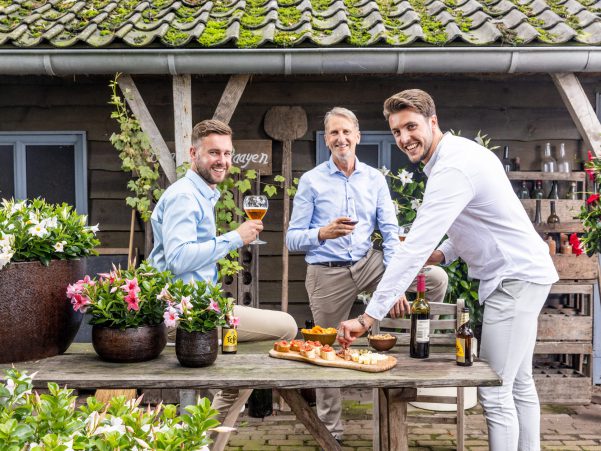 Products from this grower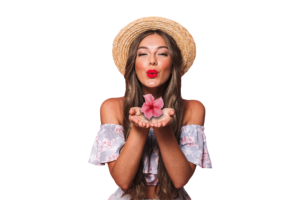 "Do the Flamingo this summer"
The Sundaville® Flamingo Pink is new on the market since 2021. The plant has special pink-coloured flowers and flowers optimally until the first frost. Sundaville® is a very grateful plant and requires almost no care.
This variety is (almost) nowhere else available.
The Flamingo Pink is unique because of the beautiful drawing on the flower.
The edges of the flower are flamed light pink.
It resembles the feathers of a flamingo, which is also why this species gets its name.
Furthermore, the flower has dark pink speckles.
With Sundaville you will beautify your balcony or terrace. This plant continues to amaze with non-stop blooming and growing for half a year until the first frost arrives. The Sundaville is very grateful and easy to take care of.
You may also like…
This Sundaville® soil with nutrients is the perfect base for your mandevilla. In our nursery, this potting soil is also used for the cultivation of mandevilla's. The potting soil is RHP certified, which means that you buy a good and fair product. A guarantee of quality and safety. In addition, a long-acting manure has been added to the potting soil in the form of Osmocote. These are coated fertilizer granules that slowly release the nutrients throughout the season, so that your Sundaville® does not have to be fertilized during the entire outdoor season. This potting soil is also very suitable for other tub and terrace plants.
With the Sundaville® climbing set you get more out of your mandevilla. With this set you can further expand the bamboo rack so that the plant can grow faster. The set consists of clips and sticks in different sizes, always a solution for your plant.
The Sundaville® we sell have already fully grown.
With this set you can further expand the bamboo rack so that the plant can grow faster.
Sundaville® is a climbing plant by nature and will grow faster if it has enough support to go up.
This product consists of bamboo sticks of 35cm and 50cm that you can attach with clips to the current racks that are used during cultivation.
You can also attach two 50cm poles to each other, giving you an extra height of approx. 1m.
This is more than enough for the entire season.
All clips are made of high-quality recycled plastic and can last several years.
Contents of the box
6 

bamboo sticks of 35cm

6 bamboo sticks of 50cm

24 

l

arge attachment clips for the bamboo poles

24 

small mounting clips for the plant